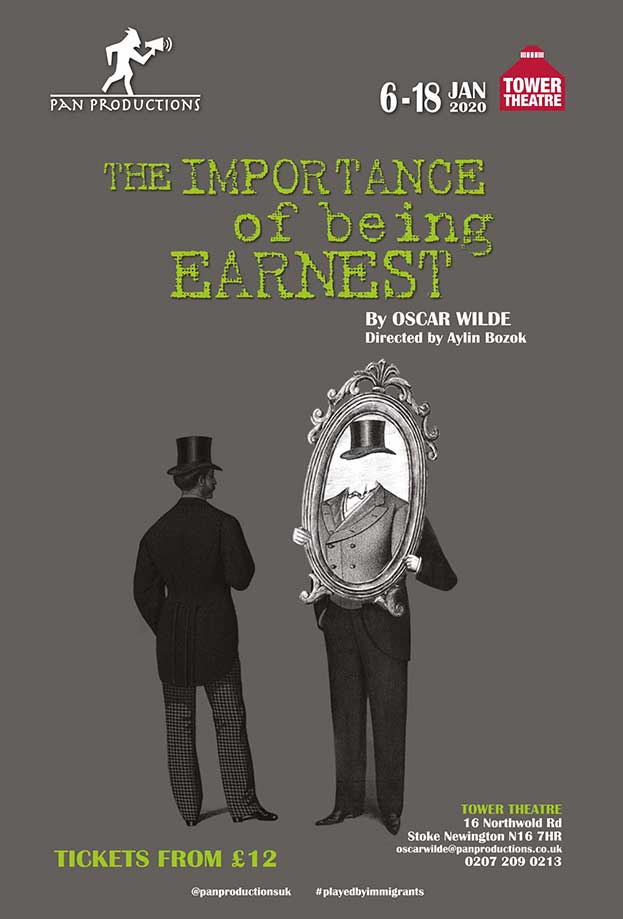 THE IMPORTANCE OF BEING EARNEST
played by immigrants
`Where do you come from?' is often asked in society where the real question we should be asking is 'Who are you?'
We usually know where we are from, our culture, our upbringing and when we move, we adapt to where we live, the language we speak... We change and we are changed. Yet the question of 'Who am I?' is ever present.
This is a story; a group of actors and creatives who spoke their first words in different languages but made the UK their home, and English, the language of their daily toil and nightly poetry.
This is also the story of Algernon who knows where he comes from but doesn't seem to be clear about who he is; and Earnest who thinks he knows who he is but not where he is from; a story from the wonderful Oscar Wilde, an immigrant himself.
Pan Productions returns with its first play in English. We bring people from different cultures and languages together to enjoy the English language and explore what it means to be from somewhere else and answer our question of 'Who are we?' in England.
CAST
JOHN WORTHING: Louis Pottier
ALGERNON MONCRIEFF: Duncan Rowe
GWENDOLEN FAIRFAX: Pinar Ogun
CECILY CARDEW: Glykeria Dimou
LADY BRACKNELL: Ece Ozdemiroglu
MISS PRISM: Serpil Delice
LANE + MERRIMAN: Nea Corner
REV. CHASUBLE: Irem Cavusoglu
CREATIVE
WRITTEN BY: Oscar Wilde
DIRECTOR : Aylin Bozok
COMPOSER : Andrea Boccadoro
SOUND DESIGN : Neil Mckeown
AST.DIRECTOR and LIGHTING DESIGN : Morgan Richards
PRODUCTION MANAGER: Onur Uz
SET & COSTUME DESIGN : Aylin Bozok
GRAPHIC DESIGN : Duysal Tuncer
VIDEO/PHOTOGRAPHY : Pozi Poyraz Saroglu
PRODUCER : Zeynep Dalkiran
Instagram : panproductionsuk
Twitter : panprodUk
Page : Pan Production