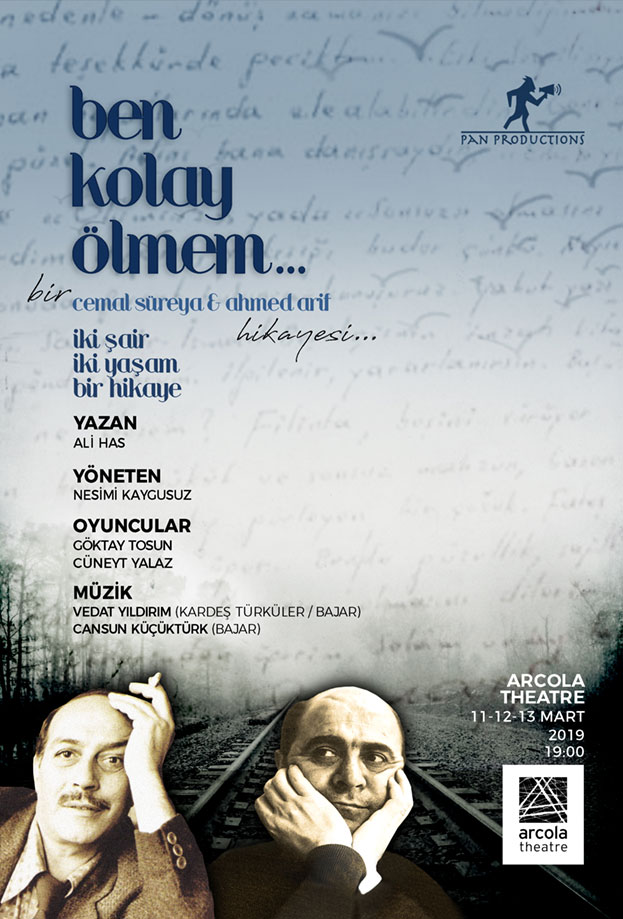 "I SHAN'T PERISH EASILY"
two poets…
two lives…
one story…
On the one hand is Ahmed Arif; with only a single book published Ahmed Arif mastered our world of literature achieving a publication record of over 60 new volumes, and took his place amongst our most widely read poets.
On the other hand is CEMAL SUREYA; expressing his struggles through the rebellious verses of his poetry; emphasizing that each poem has its own life and story. He coined around 300 new Turkish words, officially approved by Turkish Language Association.
Vedat Yildirim and Cansun Kucukturk, whom are amongst the founders of infamous 'Kardes Turkuler' and 'Bajar' music bands — are the composers of the music for the production and will perform it during the London premiers.
Stemming from the crossovers and parallels between the lives of these two friends, "I Shan't Perish Easily" explores the extraordinary struggles, their love and life stories of Ahmet Arif and Cemal Sureya. The play will be premiering in London for three nights before it goes on its European tour.
"whereas you, are my completing half — the piece over the water that completes me…"
These two giants of poetry will meet on the stage for the first time. What should one expect from this unique encounter? All you knew and could have imagined will be reshaped after this meeting.
"…we are possibly living the last of the bad days,
Perhaps we may live our first good days''
"note my life as it is…or maybe, it will go recorded as rumour…"
CAST
AHMED ARIF
Cuneyt Yalaz
CEMAL SURAYYA
Goktay Tosun
MUSIC
VEDAT YILDIRIM (Kardes Turkuler&Bajar)
CANSUN KICUKTURK (Bajar)
WRITER
Ali Has
DIRECTOR
Nesimi Kaygusuz
SOUND DESIGN
Cem Tuncer
LIGHTING DESIGN
Eren Celikdemir
ASSISTANT DIRECTOR
Nimet Iyigun
STAGE MANAGER
Gulistan Sarbas
VIDEO
Pozi Saroglu
GRAPHIC DESIGN
Duysal Tuncer
TRANSLATION
Aziz Kedi
SURTITLE
Beyza Ucak
PRODUCER
Zeynep Dalkiran
WITH SPECIAL THANKS TO,
Ipek Ozel, Suna Alan, Sinem Ozlek, Secil Honeywill.
TEASER
TEASER 2
BACKSTAGE
GALLERY